According to Peter and Francy Schoeman of Langbaken Karoo Cheese, their cheese business enabled them to survive the prolonged drought in the region. They spoke to Wouter Kriel about how they turned their sheep farm into a cheese farm.
Peter Schoeman's family, the Van Schalkwyks on his mother's side, have been raising sheep in the Williston area of ​​the Northern Cape since the 1890s. Peter and Francy, however, share an interest in dairy products.
"We met in Greyton in the Western Cape, where Peter worked on a dairy farm and I dabbled in cheese making on the nearby farm where I worked," Francy recalls.
They moved to the Schoeman family farm near Williston in 2010 and launched Langbaken Karoo Cheese soon after.
"Langbaken was an extensive sheep farm, but the [cows'] the cheese proved popular and there was high demand, so we made it a serious subdivision of our farming business," she says.
When The Farmers' Weekly first visited Francy and Peter in 2012, the couple had just started making cheese, and little did they know at the time that this small business would become their saving grace during a six-year drought.
The Williston area has been struggling with a persistent drought since 2015, and the Schoemans have had to take a new approach to sheep farming in order to stay sustainable.
The cheese business played a crucial role in keeping the farm afloat as the drought raged, but then COVID-19 hit in 2020. [our sales] directly," Francy explains.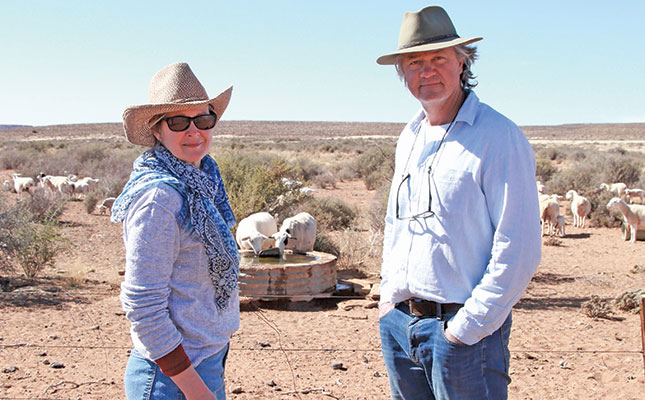 Nevertheless, the Schoemans continued to invest in their cheese business and initiated plans to expand into tourism. Peter is also perfecting the art of brewing craft beer to complement their cheese offering.
Sheep
Their land covers 5,500 ha and has a long-term carrying capacity of around 600 ewes, but they had to reduce it to 500 ewes due to drought.
"We had to cut costs as much as possible. We were very lucky to receive isolated downpours of 150mm in 2019 and again 150mm in 2020. It's heartbreaking to see your neighbor in the midst of disaster as the rain misses your side of the fence," says Francy .
During a prolonged drought, farmers may see new growth after a period of rain, but without good follow-up rain, the drought cycle is not broken and the veldt never fully recovers.
"We're not out of the woods yet," says Peter.
"Our region has received food donations from the rest of the country, which we are very grateful for. We use a feed mixer and a hammer mill to prepare food rations with everything we receive.
"But donations are now less frequent, so we are constantly on the lookout for bargains to feed the sheep. You cannot continue to feed the sheep for eight consecutive years. The veld is so depleted in many areas that there is no roughage available, so we have to add that to the mix as well.
The drought has intensified competition for survival throughout the ecological system, and the Schoemans are also experiencing this with predation. As a result, the ewes now lamb in a kraal in the farmyard. Once the lambs are strong enough, they are fitted with bells to deter predators.
Cows
The cheese industry depends on good quality milk. The Schoemans keep a small herd of 12 to 15 Jersey cows in order to produce 250ℓ of milk per day.
"It's a low-volume process; we are not a factory," says Peter. The cows are fed a full ration feed mix supplemented with green barley sprouts which are grown in a greenhouse.
"The best cheese in the world is made from [the milk of] pasture-fed cows, so we try to replicate a pasture-based diet in our diet. It also means feeding cows with as little grain as possible. The diet of the cows is extremely important as it directly affects the quality of the cheese," says Francy.
Feeding the cows is expensive, but Peter says they can afford it because they don't sell their milk at R5/ℓ.
A liter of milk makes a wheel of camembert, sold between 35 and 40 rand, so there is a lot of added value in cheese making.
Cheese
"We use raw milk and aim for relatively low volumes of premium cheese. We can process 500ℓ at a time, so we process for two days and make cheese every other day," says Francy. Their commitment to quality is confirmed by the four South African Dairy Championships Quality Awards that Langbaken have won, the most recent in 2020.
They have also won several international awards, including a gold medal at the World Jersey Cheese Championships for their Karoo Swiss in 2014.
The cheese business was doing well and providing a vital income at a time when their sheep farm was struggling. But then COVID-19 hit in 2020. During several levels of lockdown, the government introduced restrictions on the sale of alcohol.
"We experienced first-hand the direct relationship between wine and cheese sales," says Francy.
They used to sell a lot of cheese at food and wine festivals, but those orders disappeared overnight, she says. Prior to the first lockdown in 2020, they were also preparing stock for the South African Cheese Festival, including large quantities of soft cheeses, such as blue cheese and camembert.
While hard, ripened cheeses can be stored longer, soft cheeses have a short shelf life. As such, the Schoemans must handle the volumes very carefully. Due to COVID-19, the cheese festival was canceled and Francy says it was terrible to see all the cheese go to waste as there was simply no alternative market on such short notice.
During the lockdown, they dried out a few of their cows to reduce milk volumes, but they never stopped making cheese.
"We were able to keep all of our staff employed during this time," says Francy. "However, we had to rethink our marketing approach. Before the pandemic, we sold cheese in bulk, normally 5 kg wheels, to a handful of large customers, who then mainly supplied restaurants and wine tasting venues.
"But due to COVID-19 restrictions, restaurants were closed and there were no wine sales, so those customers disappeared."
They decided to reach out to dining clubs and individuals using social media. Since whole cheeses are too large for individual customers, they began to cut and vacuum pack the cheese into smaller units. Where they had seven large customers, they now have over 20 new customers, buying in smaller units.
Francy says one of the challenges was finding the right balance between soft and hard cheese.
"Initially, we placed too much emphasis on hard cheeses, but these cheeses need time to mature, which ties up cash flow and storage space. Soft cheese, on the other hand, is sold quickly, which frees up storage space and generates much-needed cash. »
One of the ways they have found this balance is through the production of their Williston Cheese, a new sweet milk cheese that Francy has developed.
"Williston is a Tomme Anglaise-type cheese that we can sell within four to six weeks of production," she says.
Beer
"We love to travel, and when we do, we make it a point to visit craft breweries because there are always interesting local stories and personalities attached to the beers. Beer and cheese go really well together," says Francy. They started making their own beer about three years ago, and Peter is getting better every day with each batch, Francy says.
"I do about 25ℓ at a time, doing three batches a day when brewing. This is enough to welcome visitors and serve as a complementary product to our cheese," says Peter.
"We are in the process of applying for a microbrewery license. Langbaken Karoo Brew is the name we chose," he adds.
Tourism
Due to COVID-19 travel restrictions that have made it difficult to travel around the world, local tourism is booming and people are supporting local products. To capitalize on this demand, the Schoemans have started building a tasting center where people can sit and eat cheese and drink their beer. They also plan to add bed and breakfasts and a camping site to the farm.
"We want to offer a total and unique hospitality experience: Karoo landscape, meat, cheese and craft beer," explains Francy.
Email Peter and Francy Schoeman at [email protected]phone Peter on 082 550 4981, or WhatsApp Francy on 082 346 5780.