If you've been to the Muskegon Farmers Market, you may have met Julie Engel, owner of The Pasturage LLC. His farm in Montague was recently certified for the highest animal welfare standards.
It is Certified Animal Welfare Approved by A Greener World (AGW), which is described as the most trusted and transparent agricultural certifier in North America.
The AGW label lets consumers know animals are raised outdoors on a pasture or range in accordance with the highest animal welfare standards in the United States and Canada, using sustainable farming methods in an independent farm.
"I first heard about Animal Welfare Approved around 2007 and was inspired by the work they were doing," says Engel.
Linda Engel, Julie's mother, runs the farm stall at the Muskegon Farmers Market.
Consumer Reports ranked the certification as the only "very meaningful" label for farm animal welfare, access to the outdoors, and sustainability – and the only animal welfare certification it trusts.
AGW Executive Director Emily Moose says the organization's certification provides real transparency for farmers and consumers.
Sustainable practices
"We are proud to work with farmers and ranchers like The Pasturage to promote their high quality products and sustainable farming practices," Moose said.
In the pasture, the sheep graze a section of pasture before being moved to new fields. The practice of rotational grazing is a fundamental part of their management, as it allows the grass to recover before the sheep return to graze, keeps the soil properly fertilized and minimizes the build-up of internal parasites, thus avoiding the need for chemical treatments, explains Engel.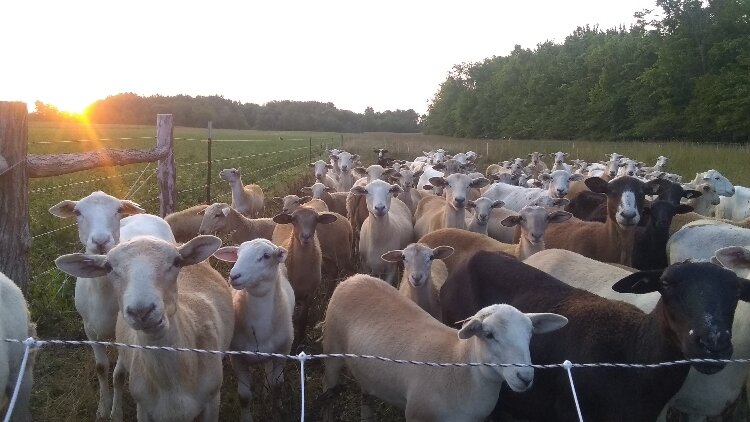 The Pasturage LLC is a sheep farm in Montague.
His small, diverse family pasture farm operates 40 acres. His current flock is made up of around 38 ewes, 62 lambs and a ram.
Engel says working with a third-party certification makes her a better farmer because she has to carefully monitor what she does and prove it, which builds consumer confidence.
"There are a lot of people who want to ask questions in the marketplace but are intimidated by the pace or the response they get from certain vendors. Plus, they don't even know what to ask for. (AGW) knows what to ask and asks the farmer on behalf of the consumer, "says Engel.
The pasture operates at stand 148 at the Muskegon Farmers Market on Saturdays. The farm sells a range of cuts of lamb, often not found in grocery stores.
Build trust
Engel believes consumers are looking for people they can trust, and AWA certification opens the door to building a relationship based on trust. AGW is the best option because of the depth and breadth of the questions and their follow-up, she says.
It is a difficult path for farmers due to the costs and additional time required. Keeping good records is by far the most time consuming, says Engel.
Julie Engel's sheep farm is certified by A Greener World.
"To be a successful farm, however, it takes good record keeping and honest analysis, so that's something I would strive to do anyway," she says. "But knowing that someone will ask is a motivation to put some time aside to make sure I have good records. I don't know if I'll see a comeback, but I suspect I will. It's too early. to say it.