Three pieces of space junk that fell on sheep farms in rural Australia came from a SpaceX rocket, the Australian Space Agency has confirmed.
Sheep farmer Mick Miners was the first to come forward, after finding a huge charred object on his farm south of Jindabyne.
Then his neighbor, Jock Wallace, found a similar object not far away. It was then revealed that a third coin had been discovered in Moonbah.
As the space debris fell, it caused a sonic boom that reverberated across the region on July 9, which could be heard by people as far away as Albury, Wagga Wagga and Canberra. People also saw a bright streak of light in the sky.
In a statement sent to Newsweek, the Australian Space Agency has now confirmed that the debris came from a "SpaceX mission".
SpaceX is a spacecraft engineering company founded in 2002 by Elon Musk.
"Technical experts from the Australian Space Agency traveled to a remote part of the Snowy Mountains region in southern New South Wales on Saturday after the discovery of space debris," a spokesperson said. from the Australian Space Agency. "The Agency has confirmed that the debris came from a SpaceX mission and continues to engage with our counterparts in the United States, as well as other parts of the Commonwealth and local authorities as appropriate."
When a rocket is launched, parts of the craft detach from the main payload and fall back to Earth. Most of these pieces burn when they hit the atmosphere, however, sometimes large chunks remain intact. These pieces usually land in the ocean, which makes up two-thirds of the Earth's surface. But on occasion, they can touch the ground.
The space agency's confirmation comes as no surprise to some, like Brad Tucker, an astrophysicist from the Australian National University College of Science, who visited the debris scene days earlier.
He already suspected that the debris came from the SpaceX Dragon spacecraft launched in 2020. Specifically, he suspected that it came from the spacecraft's Crew-1 Trunk.
The spacecraft's Crew-1 trunk was tracked to re-enter Earth's atmosphere over southern parts of New South Wales on Saturday, July 9 at 7 a.m. It was around the same time that the sonic boom could be heard.
Tucker said Newsweek that "it's great that they confirmed it".
"While we're confident it was, it's always good to get confirmation. It's also critical as it's necessary to determine whether SpaceX wants it back or if farmers can keep it. That's pretty much the last remaining leg," he said.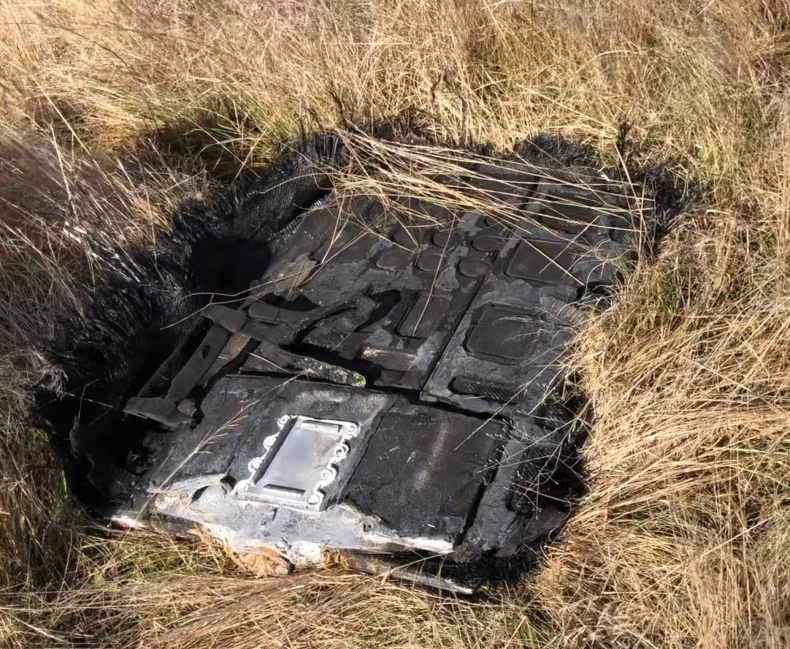 The Australian Space Agency said in its statement that it is "now operating under the Australian Government's Space Debris Reentry Plan, which outlines the roles and responsibilities of key Australian Government agencies and committees in supporting the response to space re-entry debris".
"The Agency is committed to the long-term sustainability of space activities, including debris mitigation, and has highlighted this internationally," the spokesperson said. "The Agency is also developing a Space Sustainability Framework, as well as finalizing a Space Situational Awareness and Debris Mitigation Roadmap, to guide opportunities in this important area.
NASA said Newsweek in an email that SpaceX confirmed that the object is "likely Dragon material from the trunk segment jettisoned from the agency's return Crew-1 from the International Space Station on May 2, 2021."
Update 08/04/22 ET 04:10: This article has been updated to include a statement from NASA.